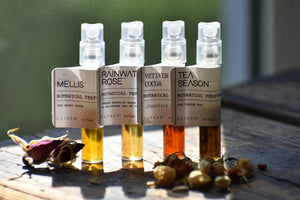 DISCOVERY SET No.5 | 4 pc natural perfume sampler | Gourmand + Floral
GATHER perfume
Regular price $42.00 Sale
DISCOVERY SET No. 5
| 4 pc perfume sampler |
Gourmand / Floral 


A sample collection for you to experience curated highlights of Gather perfume. Sample sets are priced to reflect a 20% discount compared to purchasing the equivalent 1 ml samples individually.
This set includes:
TEA SEASON - Not your average earl grey - steeped floral tannins with cozy sensuality
VETIVER COCOA - Chocolate Earth - seductive layers dusted with rose
RAINWATER ROSE - Fresh Blooming Roses - endless wild beach roses misted with real summer rain
MELLIS - The Honey Water - honey amber accord filled out with soft flowers and hints of spice
Please see individual listings for complete scent descriptions.
Each glass atomizer contains 1 ml of pure perfume.
The vial itself is a 2 ml volume vial, please note that 1 ml of perfume only fills it half way. My perfumes are concentrated. 
SAMPLE SETS ARE FOR YOUR OLFACTORY DISCOVERY AND ARE NON-REFUNDABLE. if something arrives damaged please contact us for a replacement. 
-------
100% Natural Botanical Artisanal Fragrance by GATHER perfume
A NOTE FROM THE PERFUMER
** Due to the fact that I - Gather perfume - use exclusively 100% natural materials, batch variance is to be expected. This is the same in any luxury, handcrafted art medium ( such as dance and opera) and agriculturally dependent arts such as viticulture, honey, or microbrewery. Gather perfumes are often limited editions for this reason, as well as the fact that some materials can only be obtained for small windows of time or no longer available at all. If you prefer uniformity in your fragrances, you may want to consider a more commercially available or mixed media brand. 

With Love,
Ananda