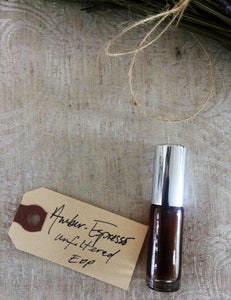 AMBER ESPRESSO - Botanical Perfume - Fossilized Amber + Dark Roast
GATHER perfume
Regular price $50.00 Sale
AMBER ESPRESSO
{ Fossilized Amber Resin + Dark Roast }


LIMITED: ONLY TWO BOTTLES MADE

Sophisticated amber resin with its leather and mineral nuance wears like a one of a kind jacket, highlighted by your favorite dark roast espresso on a cold winters day.  A not so sweet amber with the edge of coffee beans is a balanced, smooth, sexy pair that lingers beyond the empty cup.
This perfume does come in my signature etched bottle. Because I only made two bottles, this perfume is unfiltered.
Style: Amber, Leather, Gourmand, Seasonal
Prominent Notes:
Fossilized Amber resin

Espresso
Sandalwood
Cedar
Tomato leaf
Labdanum
Bitter orange flower
--------
The Personal, The Process, The Gathered
My first Christmas with my husband (1995) he bought me the softest, sexiest leather jacket. Every perfume I wore wove itself into the skin, mingling with the animalic notes. Our favorite coffee shop added layers of freshly ground and brewed beans and smells that are still of deep memories for me.
The fossilized amber here is a rare rendering of amber tree resin - boasting mineral character and a non-sweet, sophisticated amber body with leather hints. Tenacious and one of my favorite materials to work with.
--------